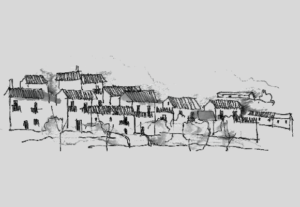 Report of activities 2016-2017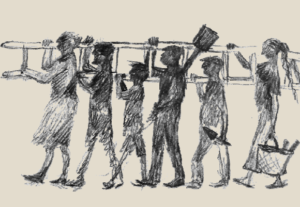 Report of activities 2017-2019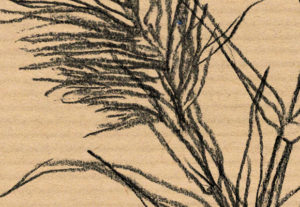 Report of activities 2019-2020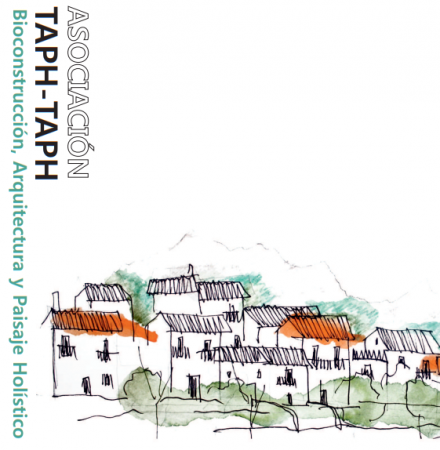 DOSSIER
TAPH TAPH ASSOCIATION
Taph Taph Bioconstruction, Architecture and Holistic Landscape, is a non-profit association whose main objectives are to promote the practice and theory of building shelters based on horizontality, active participation and the promotion of good health.
We promote the assembly culture, gender equality, the meeting of consensus and the development of an open pedagogy. We aim to promote social interest in self-managed construction, healthy habitats, knowledge and practice, under an integral vision, of architecture. An integral vision from which to improve the societies in which we live.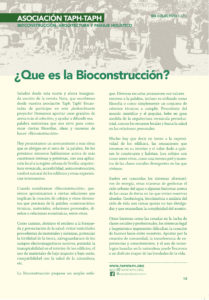 Towards a construction with land far from myth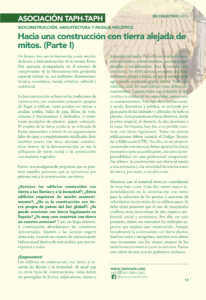 HELPS Humanity Earth Life Population Solidarity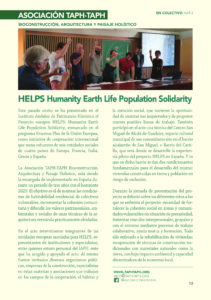 HELPS, collaborative and ecological self-construction.
Revista PH, nº 96. Febrero de 2019. Instituto Andaluz del Patrimonio Histórico. Arturo Jiménez Viera, Jorge Moya Muñoz, José Daniel Rodríguez Mariscal, Juan Javier Usero Fernández.  Read more

Proyecto Learn BI0N, Building Impact Zero Network
Revista Ecohabitar nº 61, Primavera de 2019. Arturo Jiménez, Alejandro Buzo, Lucile Couvreur, Jesús Morán. Read more
Taller de arqueología experimental. La construcción en tierra cruda: desde las técnicas protohistóricas a la bioarquitectura sostenible.
Poster en Jornada. II JORNADAS DE INNOVACIÓN DOCENTE: El reto de la enseñanza transversal en las Escuelas de Arquitectura. Sala Félix Pozo. 2019. Rodriguez Gutierrez, Oliva, García Fernández, Francisco José, Jiménez, Arturo, Moya, Jorge, Canivell, Jacinto, et. al.
Experimental characterization of compressive mechanical behavior of adobe masonry.
SosTierra 2017, Valencia, Spain, 14-16 September 2017. J.D. Rodríguez, M. Solís (Escuela Técnica Superior de Ingeniería, Universidad de Sevilla) Read more
Methodological issues for the mechanical characterization of unfired earth bricks.
Construction and Building Materials. Volume 175, 30 June 2018, Pages 804-814. J.D.Rodríguez-Mariscal, M.Solís, H.Cifuentes (Universidad de Sevilla, España) Read more
MEMBERS OF THE ASSOCIATION
 Radio Interview about Bioconstruction.
Onda Local Andalucía, 18 de Agosto, 2016. Entrevista a Arturo Jiménez Viera.
Radio interview about HELPS Project.
Programa de radio Mil cabezas, Radiópolis, Septiembre de 2018. Entrevista a Jorge Moya Muñoz, Arturo Jiménez Viera, José Daniel Rodríguez Mariscal.